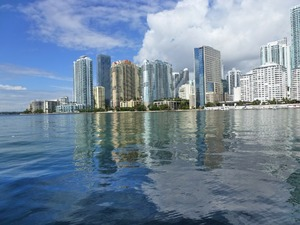 DOWNTOWN MIAMI SKYLINE
Florida has long been the winter paradise for "snowbirds" in northern and Midwestern parts of the US. Sunshine and warm temperatures as well as major financial benefits are why we see big business on Wall Street heading to South Florida. In a June 4, 2018 article, The Street highlighted "Wall Street money managers are escaping to south Florida."
What is the attraction to Florida for so many companies and money managers? We understand the weather is a nice perk, but it can't be the only thing; and, it's not.
One reason Wall Street money managers find Florida so enticing is the low capital gains taxes along with estate and corporate taxes lower than in other areas of the country. In fact, The Street article noted these benefits "have lured 70 financial service firms away from the Northeast in the past seven years including SkyBridge Capital and Universa Investments, according to Palm Beach County Business Development Board President Kelly Smallridge."
The trend is expected to continue as companies feel the effects of the new tax law in New York. They limit deductions for state and local taxes. According to Bloomberg, the deductions are limited at $10,000 including property taxes.
South Florida's Appeal to Wall Street Money Managers
What are South Florida metro areas doing to tout their appeal? Areas in South Florida like Palm Beach and Miami are working hard to court business to the area with all they have to offer. The Bloomberg article reported, "In April, members of the Miami Downtown Development Authority traveled to midtown Manhattan and Stamford, Connecticut, for a "spring outreach" trip to sell their city to financial professionals." It is reported that, while there, they met with executives from Morgan Stanley's institutional equity division and the Managed Funds Association which lobbies on behalf of hedge funds.
Even though the Bloomberg article stated "Christina Crespi, acting Executive Director of the Miami Downtown Development Authority, declined to comment on the April trip," it can be assumed that, if they did indeed meet with these companies, they were not there to discuss the Boat Show.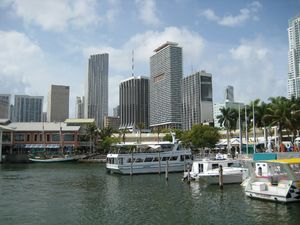 MIAMI IS A COMBINATION OF SOPHISTICATION AND RELAXATION
On the flip side, for every ounce of promotion to move south, there are also attempts to block relocation. Bloomberg reported that Catherine Smith, Commissioner of the Connecticut Department of Economic and Community Development, "is trying to block any relocation. Smith said her office is wooing fund managers to make sure they stay put, and stepping up its efforts through emails, phone calls and drop-in visits." The goal is to provide financial incentive to stay put.
South Florida's Quality of Life
Nonetheless, the move to Florida is incredibly enticing. In addition to the drop in the amount of taxes paid, businesses see their employees can enjoy a better quality of life in Florida. Who doesn't want to live in warm temperatures and sunshine most of the year? Wall Street money managers can enjoy a new quality of life by relocating to South Florida.
In terms of the residential side of relocating to Florida, South Florida real estate offers everything from a cosmopolitan lifestyle in luxury high-rise condominiums showcasing spectacular waterfront views to single-family homes and estates with their own private paradise equaling life on vacation.
Whether they come in droves or slowly begin to filter by opening branch offices, it is clear South Florida appears to be growing into a financial hub. As Hedge Fund Association President and long time Miami resident, Mitch Ackles told The Street, "It's not just access to capital or great taxes, it's a great place to live." It is going to be interesting to see if Wall Street money managers continue to see if the benefits outweigh any reservations about such a move.
Home Searching?
Browse through breathtaking luxury homes in the heart of Fort Lauderdale, Florida.