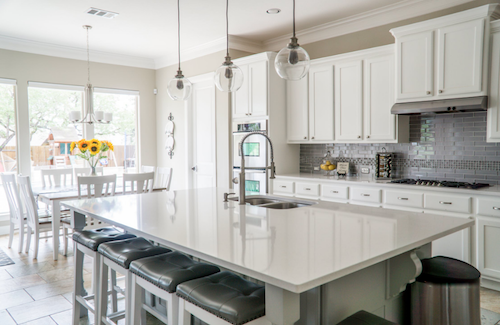 Staging a home isn't an exact science - it's more of an art, one that covers several rooms and flows throughout a home. If you're thinking that it doesn't sound easy, well, it isn't. There's a reason why I recommend hiring professional stagers.

However, if you're still living at home, here are some tips and tricks to help you avoid falling prey common staging mistakes. The overall goal is to create a welcoming space that will resonate with buyers and encourage them to picture themselves living inside your home, not to show off your personal home decorating taste.

NEGLECTING TO STAGE AT ALL

The biggest mistake most sellers make is deciding that they don't need to stage their home at all. The market should do the work for you, right? Well, maybe, but unless you're in a very strong seller's market where it really doesn't matter what your home looks like (hint: these are rare), then you should probably consider at least some light staging before you list your house.

HIDING STUFF INSTEAD OF ELIMINATING IT
You need to clear off your surfaces and provide clean lines for the buyers who will be walking through your house. That said, don't transfer that clutter into drawers, closets or other spaces where buyers might be taking a peek at the space. If a buyer can open it, then it isn't a safe space for stashing your extra things. Either hold a garage sale and get rid of some of your items or rent a storage unit and park extra boxes of books, clothes, and other things that you might want to keep but definitely don't want in your home while you're staging it.

NOT UPGRADING THE PAINT

When you've removed a significant amount of decoration from your walls, you may notice that the paint could use a little sprucing up. Instead of hiding that with more art (which, let's face it, is a very normal impulse), do yourself a favor and upgrade the interior paint wherever you can. And while you're at it, think about the exterior, too.

KEEPING TOO MANY PERSONAL ITEMS
We agree that the photo of your children with their first puppy couldn't possibly be more adorable. But is it going to help you sell your house? Unfortunately, the answer to that question is very likely "no." The same goes for religious iconography, clear evidence of a favorite hobby, and many other bits and pieces that together add up to a house that's clearly yours... and nobody else's.

CLOSING DOORS
Leaving all the doors open in your house can feel pretty strange, but when they're walking through your house, buyers are going to open every door, anyway. Closing the doors to bedrooms, bathrooms, and even closets can be counterproductive and give buyers a feeling that you're hiding something even if that's patently not the case.
NOT INVESTING IN CARPETS OR RUGS
Like any other expanse of space, your floors can usually stand for a little visual break, so if you don't already have runners in the hallway or a rug underneath your coffee table, ask me for advice in terms of what to use. A creatively placed rug can really tie a room together, and the right number of rugs throughout the home can tie your whole house together.
NEGLECTING TO ADD PLANTS
Plants aren't only for the great outdoors. A well-placed houseplant can make any room feel vibrant and alive, and when you place them strategically throughout the house, the overall effect is welcoming and fresh. After all, if a plant is thriving in your house, then buyers and their families should also thrive there, right?
NEED A LITTLE HELP WITH STAGING?
Contact me to go over your home-selling needs and create the perfect plan to get your home SOLD!